Printers and When they go wrong
Good morning everyone and Welcome to your Midweek Wednesday blog from myself.
This week I'm going to be covering Printers when they go wrong and how to install them.
We all know how important it is to make sure when we want to connect things to our Computers, MacBook's or Laptops like a printer or other devices that they are working properly.
It can seem daunting to people who don't understand how to connect things properly and the panic sets in "oh my goodness how do I do this?" Que the call to friends or family or the help desk.
Fear and Panic not, this blog should hopefully help put that panic and fear aside.
Although most things now a days are "Plug and Play" so you plug it in and your computer will automatically install the drivers needed. If you have a printer that connects to WIFI it may not be that simple.
Then you have to put the cartridges in and set up the ink levels and again to some this may be a daunting idea.
So here it is a quick breakdown of the best way to go about getting your printer up and running.
Setting Up The Printer:
Firstly take it out the box and decide where you're placing the printer, are you placing it on a desk next to your computer or are you placing it on a unit in the same room? When you've decided on this that's the first step done.
Secondly you need to plug it in, switch it on and install the ink cartridges or ink itself into the eco tanks. Whichever you've got. Just open the printer flap at the front generally located above where the paper comes out. If you have an Eco Tank printer there will be a cover over the tanks you lift up and you'll see the points where to pop in the ink.
You'll then see either 2 or 4 places to pop your ink in. Match the cartridge with where the go generally it is either Black, Tricolour or Black, Yellow, Magenta and Cyan. When you lift the flap the ink tray part should automatically move into the middle to make it easier to install the cartridges.
So BK is the Black, Tricolour is normally a circle with three colours in it. For individual inks you'll see BK for Black, Y for Yellow, M for magenta and C for Cyan.
For eco tank printers, pop the bottle on the top of each section individually and it'll empty the ink into each camber. For ink cartridges you'll see a chip on one edge of the cartridge that's the part that goes in first. So you line it up and generally push and lift up or click down depending which way yours goes.
Once you've done this your ready to go, pop the flap down and the ink will slide back into its normal position. At this point your then ready to install the printer onto your Laptop, Computer or MacBook.
Installing The Printer:
So to install your printer will be done either one or two options.
Firstly if your connecting it via a cable.. Turn off the printer and pop the cable into the back of the printer and your Computer, Laptop or MacBook. Usually via USB (a cable that looks like a phone charger generally the part that goes into the plug) Match it with a matching port on your Computer on Desktop Computers its generally on the back, or Laptops and MacBook's they are normally on the side. Plug the cable in to both ends so one into the printer and one into your computer.
If your computer is not on switch on your computer and then once loaded turn on the printer. If your computer is already on just turn the printer on.
Your computer will then show a pop up to ask if you want to install the driver or printer and you click yes and follow the instructions and make sure you print a test page to make sure your ink is securely in place and printing fine. Some will want you to scan the test page as well, again just follow the on screen instructions. And done you have your printer up and running on your computer and you'll be printing in no time.
Secondly, however you're connecting it without a cable and it is WIFI enabled the process is slightly different as you'll need to find the drivers to download directly.
In order to do this you will need to make sure your computer, laptop or MacBook is on and ready to go and that your printer is switched on.
Find the make and model of your printer so for example Epson ET2710 or HP 3210. Then you want to go to google and in the search bar the make and model of your printer followed by Driver. For example Epson Et-2710 driver and search it. It will then bring you on to the Epson or whatever model you have website with the driver to download.
Make you sure if your using Windows its a Windows Driver or if your using Mac you download the Mac Drivers or they won't work.
Once you have Downloaded the Driver, click on the setup.exe file and follow all the instructions in the Install Wizard. If there are multiple things to download for example Scan and Copy, Fax, photo editor etc make sure you download all elements of it to get the best out of Printer. Again if it asks to print a test page make sure you do as it will identify any issues if there is any with the ink or cartridges. Keep following the process through you will have to press buttons on the printer to connect to the WIFI as well but it will prompt you on when to do this.
Once you have followed the instructions fully your printer will be installed and ready to use.
When It Goes Wrong!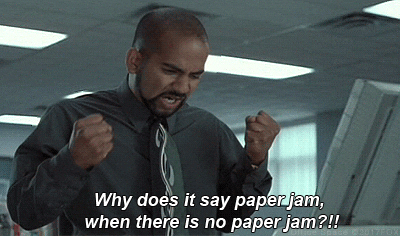 From time to time you may error messages from the printer that appear on your screen. Some of the most popular ones will be...:
Printer Ink Low

No BK, Y, M, C

Paper Jam

Feed Error

Toner Running Low
I know instant panic kicks in with these error messages so I'm gonna cover these briefly with you as well.
1. Printer Ink Low
This generally means one of your cartridges are getting low and now is a good time to buy a new one.
However if your noticing patches or lines through your work it might be best to change them now.
2. No BK, Y, M, C
This means the ink has run out and you can not print anything until you have refilled or entered a new ink cartridge (it will tell you which one needs to be replaced)
3. Paper Jam
This one is fairly straight forward, you need to remove the jammed paper within the paper. This could be paper jammed on printing so you can pull it out from the front or it could be from where the paper goes in (the feed) and you need to pull it back out from there.
There also could be a bit stuck a bit further in and to get this bit as you would lift the flap the change the ink, lift that flap and you'll probably see that theres a bit stuck in there.
Once the jam has been removed press the start button (or the one thats flashing orange) to resume printing
4. Feed Error
This generally means the paper at the back hasn't been put it straight or pushed in fully at the feed tray generally found at the back of the printer.
To fix this take all paper out, realign them all and make sure they are straight and level and then reinsert them into the printer feed tray. Push down and then there is normally two blue movable markers slide them up the the side of the paper to ensure it feeds straight.
Again press the button that's flashing orange and it should resume and continue
5. Toner running Low
This is more common in a with place with the bigger industry sized printers as they have ink and toners in them to handle the capacity it does within a busy office environment.
But if you do come across this then generally means the toner cartridge needs replacing sometimes you can get away with taking it out shaking it and putting it back. Other occasions this isn't possible and a new one is needed. In a work place you'd then contact IT to replace it. If not then you removed the toner by dropping the flap on the front or side removing the toner cartridge and replace it with a new one and again press the flashing light and resume printing.
To conclude:
I really hope this blog has helped and put your minds as ease to know there is help out there and its not quiet as scary as you might think it is.
Please do leave a comment and feedback for this Blog and I'll be back again with my next edition of IT Help by Maria
If you need any help or advice please do connect with me and I'll see if I can help and advice you on what's the best thing to do.
Have an awesome day and enjoy
See you all soon
Maria xxx